Assistant Teaching Professor of Spanish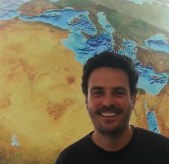 Miguel earned a bachelor's degree in Education from the International University of La Rioja, Spain and he earned an M.A. in Information and Communication Technologies for Language Teaching and Processing from the Spanish National University of Distance Education (UNED). He has been teaching Spanish since 2006 at The Pennsylvania State University. He has taught different courses in the department, specifically hybrid courses, fully online courses, and more advanced courses in Penn State Abroad Programs. Additionally, He is a co-program director of two Penn State Faculty-Led Summer Education Abroad Programs, in Ronda, Spain and in Cadiz, Spain.
Besides teaching, cooking is his passion. Since he is a gastronomy enthusiast, he took two culinary courses at the Basque Culinary Center in Spain, recognized as one of the leading universities in Gastronomic Sciences. He also loves maps, music, and traveling.